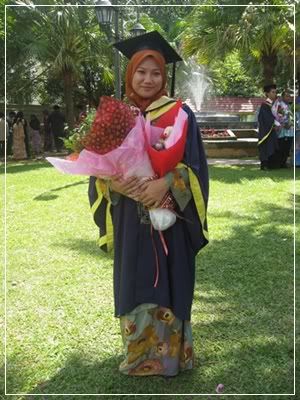 Nak update pasal konvo si Cik Min ni dari hari Jumaat hari tu lagi tapi akhirnya tak update pun.Ni lah sebabnya kalau suka sangat tangguhkan kerja.Apa-apa pun tahniah untuk Min yang dah officially grad from UPSI!!Or should I call her Cikgu Min from now on.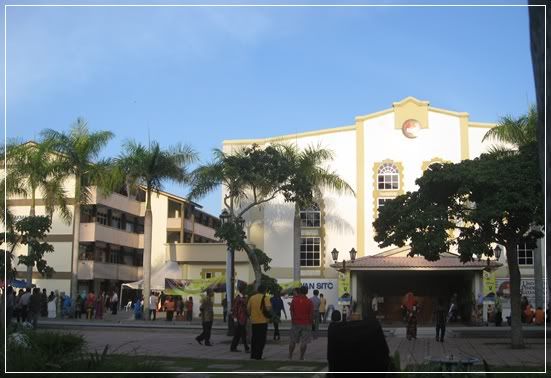 Hari Jumaat lepas,15 Oktober 2010 saya berkesempatan untuk pergi ke Majlis Istiadat Konvokesyen UPSI yang ke 12.Seingat saya la ni pertama kali pergi majlis konvo uni kat Malaysia.Sedih tak??Masa sekolah menengah dulu ada jugak tp Mini Konvokesyen la.Kat Jepun punya sotsugyo shiki(konvo) memang la sangat cepat dan pantas.Dorg nye konvo tak payah naik pentas.Tak macam kita di Malaysia,sorang2 naik atas pentas ambil diploma or ijazah dll dengan pakai jubah.Sebab tu lah jugak konvo kat Malaysia ambil masa berhari-hari.
Thanks to Min's parents yang sudi ajak & bawa pergi konvo Min sekali.Perjalanan dari Kuala Selangor ke Tanjung Malim ambik masa sejam la lebih kurang.Mula-mula ingat jauh tapi pernah hari tu sekali ikut Min hantar assignment dia,memang sejam boleh sampai.Thanks to highway!!
Majlis mula dengan perarakan masuk bakal graduan,pensyarah and VVIP.Rasa macam sayu je sepanjang majlis bila mengetahui salah seorang bakal graduan hari tu telah meninggal dunia dalam kemalangan dalam kemalangan membabitkan dua bas, tiga kereta dan sebuah van di Kilometer 223 Lebuh Raya Utara-Selatan dekat Pedas pada 10 Oktober 2010 yang lalu.
Paling sedih bila pihak UPSI nak bagi Anugerah Anumerta kepada keluarga Allahyarham ni.Ibu kepada arawah naik ke pentas ngn dipapah oleh salah seorang ahli keluarganya.Bila Pro Canselor serahkan je Ijazah kepada ibunya,terus macam lemah kaki ibu tu dan hampir rebah di atas pentas.Masa itu suasana bertukar menjadi sayu sekejap.Bergenang gak airmata masa tengok skrin kat depan tu.Min siap cakap ramai yang menangis dalam dewan.Anugerah Anumerta diberikan kepada mereka yang telah meninggal dunia.
Walaupun ada beberapa drama yang berlaku sepanjang majlis ni,my bestfriend Min naik ke pentas ngn gaya cool je bila sampai turn dia.I'm so proud of you!!To Min selamat jadi cikgu vogue ye!!First gaji don't forget to treat us!!